Going on Record on Term Limits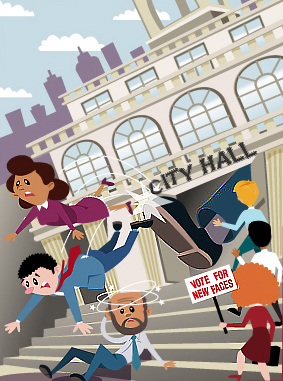 The Question, Simple. The Answers, Not Always!
The Question on the Citizens Union candidate questionnaire reads as follows:
Do you support keeping Council term limits in place for two consecutive four year terms? If not, why, and what do you propose?
Here's what some of your Speaker candidates had to say:
Christine Quinn:
I have a long standing opposition to term limits and thus firmly oppose the current term limit of two consecutive four year terms. Eight years is simply not long enough to learn how to do ones job and to effectively move a policy agenda. The current law is leading to a turnover of three quarters of the council at a given time and denies New Yorkers representation that they otherwise may elect to continue to serve them. Doing so disempowers the electorate and denies them their democratic right to choose for themselves who they want to represent them. In the end, term limits transfer power from elected representatives to lobbyists, unelected staff and advocates who Councilmembers will be increasingly dependent on for their knowledge and long-term understanding of the issues.
David Weprin:
I have great reservations about the current term limits law and would be open to exploring changes to that law, provided there is sufficient public input to any significant changes to the law.
Bill de Blasio:
I support extending term limits for Council Members to three four-year terms. I believe that under the current arrangements, Council Members do not have adequate time for long-term planning, which effectively transfers too much power to unelected staff and lobbyists, and upsets the balance of power between the Mayor and the Council.
** We invite the other Speaker candidates to submit their answers to this same question at
publicsway@yahoo.com
.